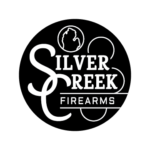 Our guns are 100% machined and assembled to the highest precision and quality in our own facility.
Our Silver Creek Firearms .357 Magnum was recently featured on Michigan Out-of-Doors
.357 Magnum Revolver
The Silver Creek Firearms, Inc. .357 Magnum is a seven shot double action revolver made from polished 17-4PH stainless steel weighing 3.7 lbs. with variable pitch rifling that increases as it goes down the barrel adding to the accuracy of the gun.
Standard sights are fiber optic with the option for a red dot mount or a picatinny rail for scope mount. The 8" barrel is ported for low recoil.
The options for laminated grips are Rosewood, Black, and Green.
Want to be the first to know?
Sign up to receive product launch announcements and other exciting news
Business Directory Listing